Posted by webmaster
On January 23, 2019
0 Comments
This year, grading will be conducted as part of preseason training during February and early March rather than on a single day.
Important for training:
shin pads must be worn at training
no studded boots until April
bring a water bottle
show respect to your fellow players, coach, manager and parents
MiniRoos (U6-U11)
The Skills Clinic will be held at Berry Park on Mondays commencing 11-Feb and run for 5 weeks. It is open to all MiniRoos players who have registered and paid. There is no additional sign-up required. The first 3 weeks will focus on skills and the final 2 weeks will be focused on grading. We encourage all MiniRoos players to attend as many of the sessions as possible.
Junior Comp (U12-U18)
Each age group will train as a squad during the preseason with the aim of grading the players over multiple sessions.
Tuesday @ Mt Kuring-gai oval – Starting on 5-Feb for G14, G16, U14, U15, U16, U18
Thursday @ Mills Park – Starting on 7-Feb for G12, U12, U13
Preseason training roster: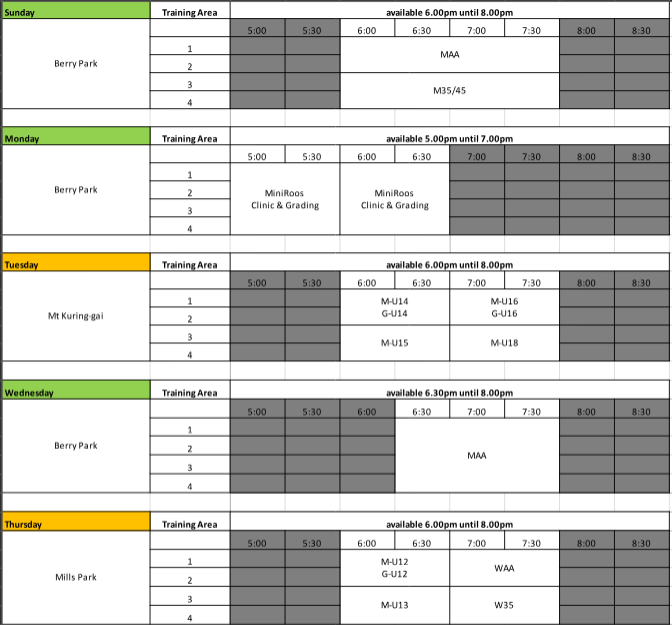 Mills Park allocation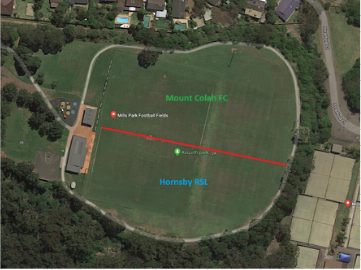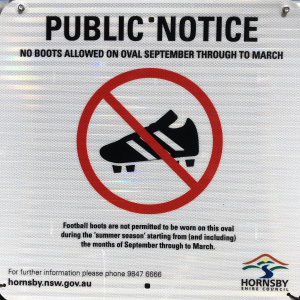 2019 Season Training
Season training rosters can be found on our grounds page.
This will commence once Hornsby Council makes grounds available for winter training – usually early March.